CLEAN LIKE THE PROFESSIONALS – VISIT OUR FACTORY SHOP IN WARRENPOINT

Here at MHS We Provide Professional Cleaning and Washroom Products
to both Trade and  Public Customers.
Our customers include Hospitality, Service and Food Industries and direct to the public at our Factory Outlet in Warrenpoint.
Primarily a distribution company for quality industrial cleaning, we offer an excellence next-day service with direct delivery to your workplace in Counties: Down, Armagh, Antrim, Louth, Monaghan and Tyrone.
Our customers include hotels, factories, offices, service and the food industry.
Our Products include:
Paper Products, Chemicals, Napkins, Toilet Rolls, Centrefeed Rolls, Mops, Buckets, Brushes, Gloves, Black Bags, Washing Powders, Blue Rolls, Surface Cleaners, Cloths, Scourers, Table Covers, Straws, Dishwasher Products, Air Fresheners, Floor Cleaners and a Full Range of Disposable Tabletop Products.
THOUSANDS OF PRODUCTS IN STOCK TO MAKE LIGHT WORK OF THE HARDEST OF JOBS
MHS IS TRUSTED BY 100's OF RESTAURANTS, BARS AND PROFESSIONAL KITCHENS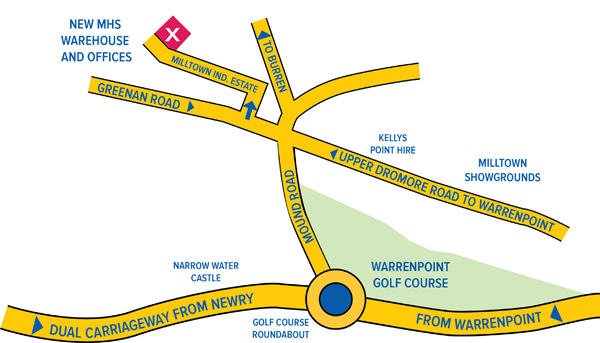 WE ARE OPEN TO THE PUBLIC
With the introduction of our new Factory Shop Showroom, the public are more than welcome to visit our store and purchase our entire product line of Professional Cleaning and Washroom Products.

OPENING HOURS
Monday        9:00am – 5:00pm
Tuesday       9:00am – 5:00pm
Wednesday  9:00am – 5:00pm
Thursday      9:00am – 5:00pm
Friday           9:00am – 4:30pm
Saturday      Closed
Sunday        Closed
WE SELL THE PRODUCTS THE PROFESSIONALS USE
<iframe src="https://www.google.com/maps/d/embed?mid=1xKDVFbss5kDAA9sNHHdzdj9Z2F6WSLoU&hl=en&z=11" width="1100" height="460"></iframe>
Please feel free to contact us.